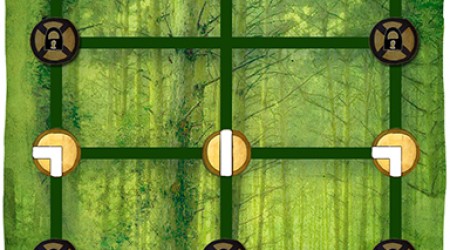 Appy Chat & Giveaway

Appy Chat:
How did your start app development?
In 2009 I returned to Australia with my family after living in London for 7 years. One of us had to stay home with our daughter until a place became available in daycare, and that turned out to be me. Traditionally I'm a web developer, a geek girl coder, and I love doing it, so staying home full time was difficult for me. I have a need to create things or my brain turns to mush. So in early 2010 when a friends husband showed me an iPad that he'd brought back from the US I fell instantly in love. I realised that app development was something I could do at home, in my own time. At the same time I was doing a Children's Book Writing course with Libby Gleeson, and from that A Fine Musician was born. I know childrens picture book publishing is the hardest area to get into, so instead of slogging it out with a publisher, I decided to make that my first IOS project.
When did you decide to develop this app?
Escape From Tokeru came out of my previous app Diode, which was designed for an older audience. My daughter who is 6 has a few friends from school all living on our street and more often than not they are somewhere around the house playing. When I was developing Diode my daughter was showing it off to them. They all loved playing it but they couldn't get past level 5-6, so I decided to make an easier version for them. I came up with a storyline and some appealing characters to give it a wrapper, simplified the gameplay and added in some slick interactions to make it more intuitive.
When did you first release this app?
Just last week on Thursday 28th March. So it's brand new.
How long did it take you to develop this app?
Because I had all the game logic code from Diode, Escape From Tokeru came together pretty quickly. All up it was about 6-7 weeks. Mind you, I work at night after the kids go to bed. Propping my eyes open with caffeine I start at about 8.30 and can work anytime up until midnight. Some nights though I don't work at all, or might have only done an hour or so. I depends heavily on how the running of the household and children goes each day.
What is your favourite feature?
Oh absolutely it's the gameplay. I adore brain teaser puzzles and I can see the same enjoyment of them coming out in my daughter now. She's just started first grade and I love seeing that satisfied feeling of success in her face when she completes a level. It's a game where you can't fail a level. If you wake the dragons or use a hint, the worst that can happen is that you receive a silver or bronze globe rather than a gold one. I think for kids they are more enthusiastic about a game if they feel they can enjoy the challenge without a fear of failure.
What is your favourite page in the app?
I think the last stage, The Trees of Ki is my favourite design. After the hardships of escaping ice, caverns and tunnels, the calm of the outside forest is a relief. You know you're close to escaping when you are playing that stage, so it's a bit exciting too. The challenge in Trees of Ki also is more about path creation rather than path finding too, so the gameplay here requires the most amount of skill I believe.
What skills were you hoping to help the end user to develop?

The users are required to use and develop a number of skills throughout the game. The most obvious of course being path and maze solving skills. This becomes harder when in stage 2 the user is given the ability to start changing the maze in order to find the safest path through it. There are bridges that switch between vertical and horizontal which completely change the possibilities for the user.
In stage 3 the user continues to use these new techniques, but is given the  added challenge of tunnels. Here the user must practice reading the mazes patterns to see where the paths meet up when some of them are obscured by tunnels.
In stage 4 the user has corner gates that open in only 1 of the 4 directions at any given time. The user touches them to switch the direction. They are using the same skills as with the bridges in stage 2, but they are a more complex version. So in each stage there is increasing difficulty, and hopefully that increases the enjoyment of success.
What age range would this app most suit?
My daughter is just six, so I'd say bright 5 year olds up to 8. I'm afraid that with every app I've made, it's to suit someone her age. She and her friends are my testing and feedback facility. They have moulded the direction of pretty much every app I've made. They are brutally honest, but when you work alone like I do that's the best kind of feedback, straight from the users mouth!
Are any new updates coming soon?
Possibly, it will depend on how well it sells. I thought of including a "boss level". A level to end all levels, that's really hard and an absolute success to complete. Or if it's really popular maybe a sequel where Lord Waru comes back to create more mischief. I'll have to see how it goes.
Description:
From the creator of the hugely popular Loopy Tunes comes Escape From Tokeru.
Lord Waru has kidnapped the 3 Light Emitters, Kiki, Suri and Toro and hidden them deep in the mazes of Mount Tokeru.
Without them the world will remain in darkness forever, it is up to you to rescue them.
Navigate safe paths through the mazes of the worlds of ice, bridges, tunnels and trees to return the Light Emitters to their home. But don't wake Waru's dragons or they'll stop your attempts.
Designed for 5-8 year olds, Escape From Tokeru has been created for the iPad but has been optimised for the best possible game play on your iPhones and Ipod Touches as well.
Specifications:
Category: Game
Released: March 28, 2013
Version: 1
Language: English
Requirements: Compatible with iPhone 3GS, iPhone 4, iPhone 4S, iPhone 5, iPod touch (3rd generation), iPod touch (4th generation), iPod touch (5th generation) and iPad. Requires iOS 5.0 or later. This app is optimized for iPhone 5.
Links:
Website: Tokeru Publishing
Facebook Page: Tokeru Publishing
Twitter: @TokeruApps
App: Escape From Tokeru
Cost: $1.99
………………………..
Giveaway:
We have a Rafflecopter giveaway until April 15, 2013